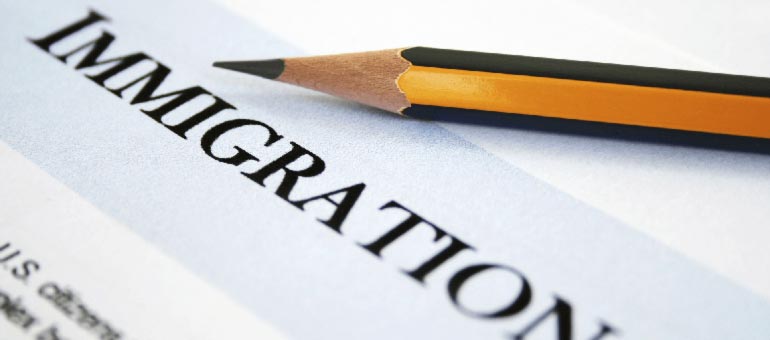 DACA fees could help keep USCIS afloat. Since the Supreme Court?s ruling kept DACA in place, DACA-hopefuls have waited to hear if USCIS will begin processing new applications again. If the federal government begins accepting new applicants, DACA could be one program that helps USCIS overcome its current deficit. Currently, if USCIS does not get the requested $1.2 billion from Congress by August, more than 70% of USCIS workers will be furloughed.
President Trump?s approval on immigration has dropped by 9 points among Republicans. A new Hill-HarrisX poll found that Republican voters? approval of President Trump in the area of immigration has dropped by 9 points in the last month. While 91% of Republican voters approved of Trump?s handling of immigration in May, his rating dropped to 82% in June. Approval from voters overall decreased from 54% in May to 47% in June.
The Trump administration has awarded a contract for a ?virtual border wall.? The Trump administration has reportedly awarded a contract to a tech startup to set up autonomous surveillance towers along the U.S.-Mexican border. According to CBP, 200 of these towers are planned to be deployed along the southern border by 2022. The contract with Anduril Industries is set for 5 years.
The new immigration restrictions could hurt Philadelphia?s flourishing biotech industry. On June 22, President Trump signed an executive order suspending the issuance of most types of work visas until the end of the year. Many large technology companies in the Philadelphia area rely heavily on H-1B visa workers. The biotech and academia industries similarly rely heavily on foreign workers to complete important research. The need for foreign workers means that visa restrictions could harm these growing industries in the Philadelphia area.
San Francisco immigration lawyers have lowered the immigrant detainee population in the area by two? thirds. In March, the San Francisco Public Defender?s Office joined a lawsuit with the ACLU demanding the release of ICE detainees with pre-existing health concerns. The successful lawsuit led to a decrease in the number of detainees at the Mesa Verde and Yuba County Jail facilities. As of two weeks ago, the combined detained population was 174, down from 523. The San Francisco Public Defender?s Office now has an entire unit dedicated to immigration and will continue to work in the areas of immigrant bail, detention depopulation, and increased COVID-19 testing in ICE facilities.
? ? ? ? ? ? ? ? If you have any questions on what is considered for visa US., please contact our office ID Line : Virasin and Webside Virasin.com 095-258-4186